May 6th is Battle of the Atlantic Sunday. Services are being held across Canada at naval establishments, reserve units, sea cadets, etc.
The Battle of the Atlantic, the longest of the Second World War, was the naval effort to meet the threats of Germany's U-boats. As the war progressed, German Admiral Karl Dönitz added more submarines to the wolf packs stalking the convoys that carried supplies to Britain for the invasion of Europe. By early 1941, they were sinking merchant ships faster than they could be constructed.

By early January 1942, U-boats came within sight of Newfoundland and Nova Scotia; by May, Korvettenkapitän Karl Thurmann took U-553 into the Gulf of St. Lawrence to begin Operation Drumbeat, Germany's strategic offensive against North America's East Coast and the Battle of the Gulf of St. Lawrence. Between 1942 and 1944, the U-boats came within 300 kilometres of Québec City, sinking 23 ships.

The German wolf packs were so successful against Allied shipping that Canada, the U.S. and Britain convened the Atlantic Convoy Conference in March 1943. Canada's contribution to neutralizing the U-boat threat grew to the point that Canadian and Newfoundland waters were made a distinct theatre of operations. Pictou's own Rear-Admiral Leonard W. Murray established the Canadian Northwest Atlantic Headquarters in Halifax on April 30, 1943. He was the only Canadian to command an Allied theatre of operations during the Second World War...........

http://thechronicleherald.ca/opinion/93 ... tic-sunday
http://en.wikipedia.org/wiki/Battle_of_ ... %80%931945
)
A good book, as well as a good movie is The Cruel Sea. Yet another good book is
DEADLY SEAS The Duel Between the St. Croix and the U305 in the Battle of the Atlantic
The HMCS St. Croix was torpedoed and any survivors that were picked up were torpedoed on that ship as well, with only one survivor from St. Croix and two from the resucing ship.
http://www.naval-museum.mb.ca/battle_at ... c-saga.htm
Torpedoed frigate HMCS Chebogue, from HMCS Ribble prior to being taken under tow.
Burial at sea aboard HMCS Ribble of crewman from U-1209.
With U-boat surviviors formed up on quarter deck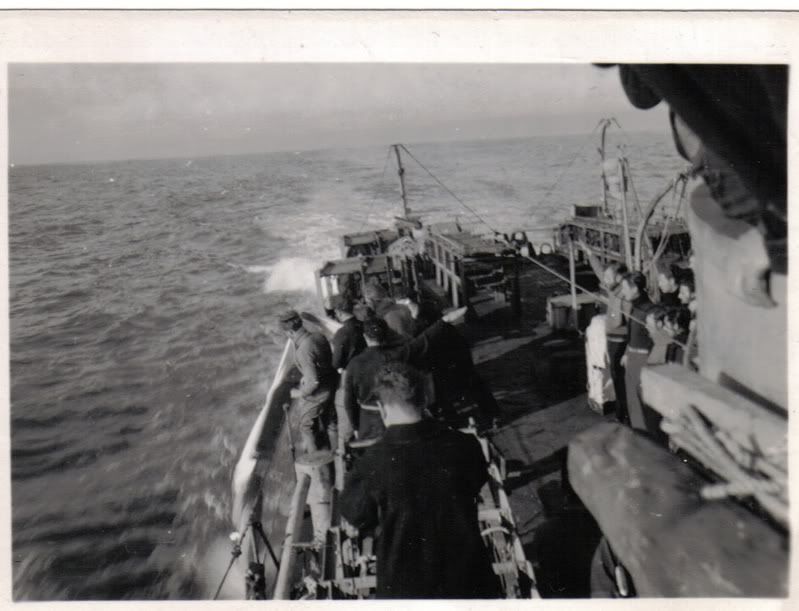 From my late father's collection.